DQ Edge
India's Best Platform for Entrance Exams in Architecture, Design & Fashion


NATA, JEE Paper-2, UCEED, CEED, NID and NIFT.
Courses
Architecture

NATA and JEE Paper 2
Design

UCEED, CEED, NID UG and PG
Fashion

NIFT
Why DQ Edge?
Learn + Take Tests
Our content is perfectly curated by expert faculty who have cracked these exams before. We provide past year papers, mock tests and predicted questions that use cognitive analytics to better guide you towards victory.
Analysis and Feedback
DQ Edge uses analytics powered by Xamplay to help deliver qualitative personalized insights and strategy. You can also upload a drawing and round 2 assignments for feedback.
Results
Our results have been proven over the years with multiple rank holders using DQ Edge and is driven by our ability to use specialised insights to make preparation easy for students.
Smart Insights Powered By Xamplay
Answer Input

We use patent-pending MCQ's that understand if you used knowledge/formula, elimination or random choice to answer a question. This helps qualitatively analyse your test attempt and deliver a more realistic understanding of your level of knowledge and what you should be focusing on.
Actionable Topic Insights

The input system and other factors help us deliver topic insights so that you put focus on topics to stop losing score, improve your score and identify mastered topics. This is done with proprietary machine learning models and past input from other students and the actual exam.
Strategy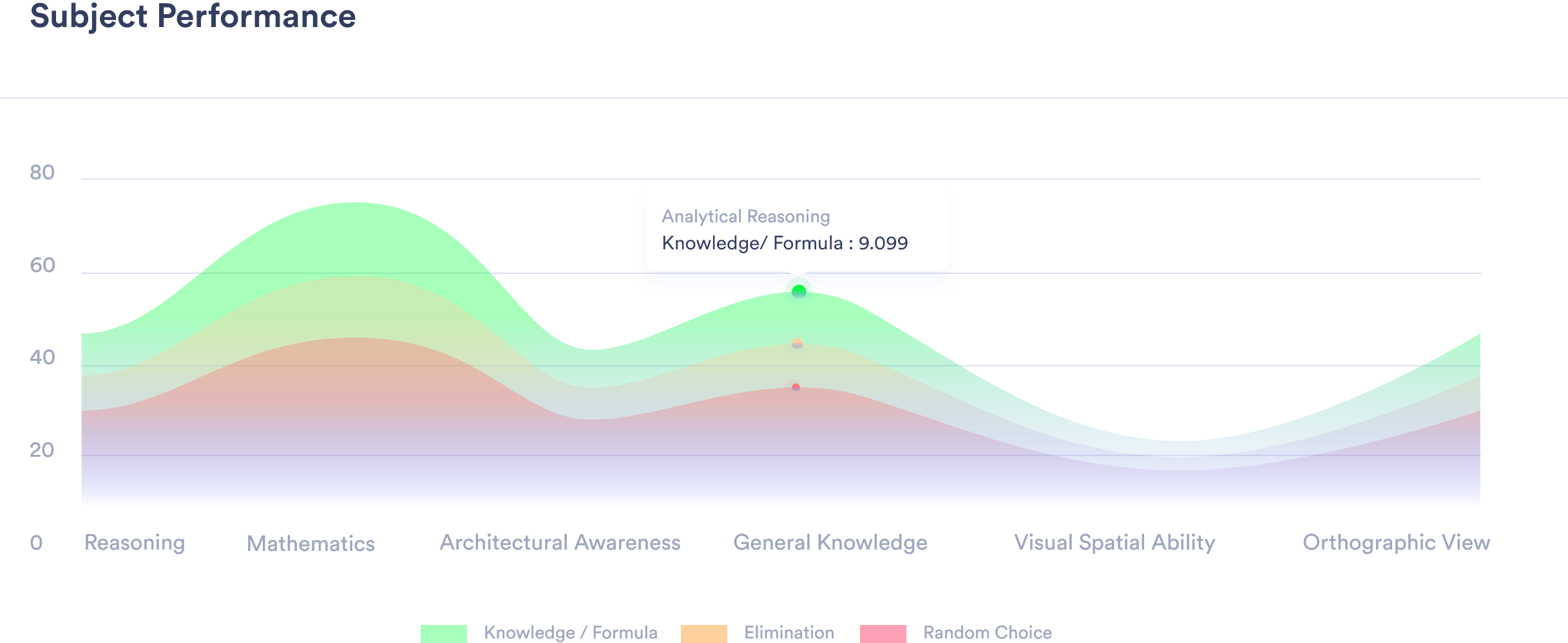 It's important to be strategic in your approach towards preparing as time is short and syllabus is vast. So we help you identify your current state of preparation, track progress and most importantly prioritize what you need to study to achieve a high score.
Testimonials
Poornima
2nd Rank, NATA 2017
"I am really surprised. I knew I did well but didn't expect this rank. Feeling overwhelmed and thankful"
Devansh
4th Rank, NID 2016
"The mock test papers for practice, continuous classes and effort on the part of faculty have been extremely helpful. I thank you for your commitment and diligence."
Daren Lobo
6th Rank, UCEED 2017
"DQ Labs has been very important support and an essential guide without whom I couldn't have performed as I have done. They give personal attention to each and every student"
Sirigowri
2nd Rank, NIFT 2018
" I am extremely happy with the package DQ Labs offers - from the comprehensive course material to the excellent teaching and drawing faculty"
Manasvi
1st Rank, NID PG 2017
"All thanks to the wonderful and effortless coaching, we had professional designers guiding us on our preparation and that I found to be very useful"
Mrudhula
1st Rank, NATA 2016
"I thank you for the Tremendous support. The online study material and question bank which was provided was extremely focused and helped me prepare myself within a short span of time."
Pricing
Take Tests
₹4,999 50% off
₹2,500
user/year
Special All India Mock (AIM) Tests
Get access to all exams AIM
1 new AIM released per exam per month
Access tests at your own convenience
Get a Personalized Study plan
Get Actionable insights
Get All India Rank
Reach Us
#777/B, 1st Floor, 100 Feet Road, Indira Nagar, Bengaluru, Karnataka 560008
Contact No - 9591001000 | Email - [email protected]